Espero ver a los estudiantes y a todos los padres de estudiantes en los grados 8-11 para nuestra Noche de Transición de HS esta noche. Estaremos regalando 50 Viking Bucks por asistencia que se pueden usar el próximo año, ¡y estamos sirviendo la cena! ¡Nos vemos esta noche en la cafetería!

Hoping to see the students and all parents of students in grades 8-11 for our HS Transition Night tonight. We will be giving away 50 Viking Bucks for attendance that can be used next year, and we are serving dinner! See you tonight in the cafeteria!

The NJHS ceremony is for tonight, starting at 6 in the auditorium. La ceremonia de NJHS es para esta noche a partir de las 6 en el auditorio.

Just a reminder about the Skoglund Middle School National Honor Society induction ceremony tonight for students who were selected. Parents of these students have received an invite, but just sending a reminder. Solo un recordatorio sobre la ceremonia de inducción de la Sociedad Nacional de Honor de la Escuela Secundaria Skoglund esta noche para los estudiantes que fueron seleccionados. Los padres de estos estudiantes han recibido una invitación, pero solo están enviando un recordatorio.

Parents and students in grades 8-11, you are invited to our HS transition night tomorrow, Tuesday, at 6 PM in the cafeteria. You will learn important tips for success at the next grade level and meet your counselors and other teaching staff. We are giving 50 Viking Bucks for attendance!

Estudiantes en los grados 8-11, ustedes y sus padres están invitados a nuestra noche de transición de HS mañana, martes, a las 6:00 p. m. en la cafetería. Aprenderá consejos importantes para tener éxito en su próximo nivel de grado. Estamos dando 50 Viking Bucks por asistencia.

It's the last week of school! Please take a look at all the great things going on at Center Schools as we wrap up the year in fine fashion @
www.center-of-focus.com
. Have a fabulous week!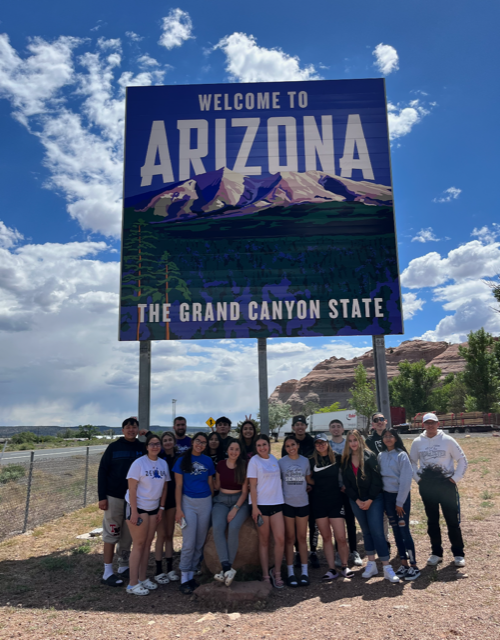 Estamos muy emocionados por nuestro viaje de mérito a los Rockies mañana, miércoles 17 de mayo, para los estudiantes que tuvieron calificaciones, asistencia y comportamiento positivos durante todo el año. Saldremos a las 6:30 AM y regresaremos alrededor de las 11 PM. Los estudiantes deben estar en la escuela a las 6:15 AM. Tendremos el desayuno para ellos. También les daremos $20 para comida y un cupón para un hot dog y una bebida en el juego. ¡Nos vemos brillante y temprano!

We are very excited for our Rockies merit trip tomorrow, Wednesday, May 17th, for students who had positive grades, attendance, and behavior all year. We will leave at 6:30 AM and return at about 11 PM. Students should be at the school by 6:15 AM. We will have breakfast for them. We will also give them $20 for food and a voucher for a hot dog and drink at the game. See you bright and early!
Este aviso debe distribuirse a todos los padres y al personal dentro de los dos días hábiles posteriores a su recepción. Por favor, tenga en cuenta que se incluyen a los padres y al personal de todos los programas dentro de las instalaciones de este edificio. Aviso: Haskin Elementary School ha recibido los resultados de las pruebas de detección de plomo en el agua potable En junio, el gobernador Polis promulgó la Ley 22-1358 de la Cámara de Representantes de Colorado: Agua Limpia en Escuelas y Centros de Cuidado Infantil. Esta ley exige que todos los programas de cuidado infantil con licencia y las escuelas elegibles analicen su agua potable para detectar el plomo, y tomen medidas cuando los resultados indican niveles de 5 partes por mil millones (ppb) en adelante. El objetivo de esta ley es reducir la exposición de los niños al plomo. Para cumplir estos requisitos, Haskin Elementary School hizo pruebas de plomo en todas las fuentes de salida de agua que se utilizan para beber y cocinar. Resumen de los resultados: • 24 fuentes de salida de agua fueron sometidas a pruebas. • 24 fuentes de salida de agua arrojaron resultados de plomo inferiores a 5 ppb. En este caso, no se requiere ninguna otra medida. • 0 fuentes de salida de agua arrojaron resultados de plomo de 5 ppb o superiores. Puede consultar los resultados detallados de las muestras y los planes de remediación aqui. Los resultados pueden tardar hasta 3 días en publicarse en esta página web. Nuestra máxima prioridad es proteger la salud y el bienestar de los niños de Colorado, y le mantendremos informado durante el proceso en Haskin Elementary School. Si tiene preguntas o inquietudes sobre nuestro centro y las acciones que estamos tomando, póngase en contacto con Wendy Murillo en
wrue@center.k12.co.us
. Las escuelas y los centros de cuidado infantil que obtengan resultados de niveles de plomo en el agua potable por encima de 5 partes por mil millones (ppb) deben tomar medidas para reducir la exposición al plomo. Cuando se detecta que el nivel de plomo es igual o superior a 5 ppb, se desconecta la fuente de salida del agua mientras se lleva a cabo una acción correctiva a largo plazo. Estas soluciones pueden incluir el retiro permanente de la fuente de salida del agua, designar una fuente de agua como "no apta para beber", sustituir los grifos o fuentes de agua potable, o instalar filtros. En el caso de las fuentes de salida de agua en las que se encuentra plomo por debajo de 5 ppb, seguimos las prácticas rutinarias para reducir aún más la posibilidad de exposición. El plomo es un metal tóxico que es especialmente perjudicial para los niños pequeños. El nivel de riesgo depende de la exposición total del niño al plomo procedente de todas las fuentes del entorno: aire, suelo, polvo, alimentos, pintura, productos de consumo personal y agua. Por lo general, las tuberías de plomo viejas o corroídas o los accesorios de latón viejos pueden aumentar los niveles de plomo en el agua potable. Si le preocupa la exposición de su hijo(a), puede hacerle un análisis de sangre. Por favor, comuníquese con su médico para obtener más información sobre los análisis de sangre para determinar el nivel de plomo. Para obtener más información, visite
https://cdphe.colorado.gov/lead-testing
. ________________________________________
https://cdphe.colorado.gov/lead
para obtener más información sobre el plomo. Para conocer los requisitos aplicables en Colorado en materia de pruebas de detección del plomo en el agua potable, visite:
https://cdphe.colorado.gov/environment/lead-safety/test-and-fix-water-for-kids
. Visite
https://espanol.epa.gov/espanol/informacion-basica-sobre-el-plomo-en-el-agua-potable
, la página de la Agencia de Protección Ambiental (EPA) de los EE. UU., para obtener información general sobre el plomo.
Dear School/Child Care Community: Haskin Elementary School has received results for lead testing in drinking water fixtures In June, Governor Polis signed into law Colorado House Bill 22-1358: Clean Water in Schools and Child Care Centers. This bill requires all licensed child care programs and public schools to test their drinking water for lead and take action when results show levels of lead at or above 5 parts per billion (ppb). The goal of this law is to lower children's exposure to lead. To meet these requirements, Haskin Elementary School has tested for lead at all water fixtures used for drinking and cooking. Results Summary: • 24 Fixtures were tested • 24 Fixtures had lead results that tested below 5 ppb - no further action is required • 0 Fixtures had lead results that tested at or above 5 ppb You can view the detailed sample results and remediation status at this link. Results may take up to 3 days to be posted on this webpage. Protecting the health and wellbeing of Colorado's children is our top priority, and we will keep you updated during the process at Haskin Elementary School. If you have questions or concerns about our facility and the actions we are taking, please contact Wendy Murillo at
wrue@center.k12.co.us
. Schools/child care facilities that have lead results in drinking water above 5 parts per billion (ppb) must take action to reduce exposure to lead. When lead is found at or above 5 ppb, the fixture is shut off while a more long-term solution is underway. These solutions may include permanently removing the fixture from service, designating a fixture as "not for drinking", replacing drinking water faucets or fountains, or installing filters. For the fixtures where lead is found below 5 ppb, we will follow routine practices to further lower potential exposure. Lead is a toxic metal that is especially harmful to young children. The degree of risk depends on the child's total exposure to lead from all environmental sources – air, soil, dust, food, paint, consumer products, and water. Typically old or corroded lead plumbing or old brass fixtures can contribute to increased lead levels in drinking water. If you are concerned about your child's exposure you can have their blood tested. Please contact your health provider to learn more about testing your child's blood for lead. For more information please visit:
https://cdphe.colorado.gov/lead-testing
. ________________________________________ For more information on lead:
https://cdphe.colorado.gov/lead
For Colorado lead testing requirements in drinking water:
https://cdphe.colorado.gov/environment/lead-safety/test-and-fix-water-for-kids
For U.S. Environmental Protection Agency (EPA) general information on lead:
www.epa.gov/lead

Center schools celebrating greatness @www.center-of-focus.com. Have a great week!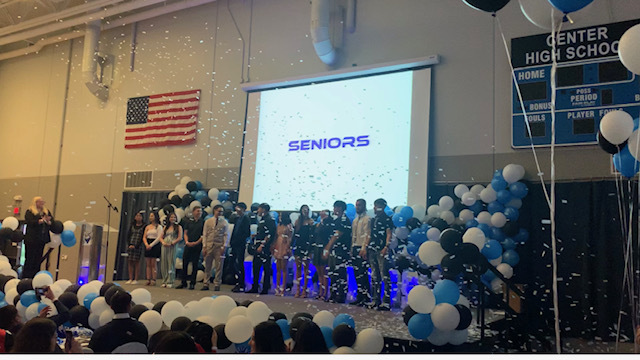 Hola padres de MS y HS. Los estudiantes fueron seleccionados para el viaje de mérito de los Rockies el miércoles 17 de mayo por cumplir con los tres criterios: (1) comportamiento (sin referencias), (2) calificaciones (3.0 y superior) y (3) asistencia (menos de 7 ausencias) . Los estudiantes fueron informados la semana pasada y se enviaron hojas de permiso a casa. Saldremos a las 6:30 AM y regresaremos a las 11 PM, y pagaremos una comida en el juego. El formulario de permiso vence mañana. Si los estudiantes no traen su hoja de permiso, corren el peligro de ser reemplazados por un suplente del viaje. Por favor devuelva las hojas de permiso. Gracias Katrina Ruggles

Hi MS and HS parents. Students were selected for the Rockies merit trip on Wednesday, May 17th, for meeting all three criteria--(1) behavior (no referrals), (2) grades (3.0 and above), and (3) attendance (below 7 absences). Students were informed last week and permission slips sent home. We will leave at 6:30 AM and return at 11 PM, and we will pay for a meal at the game. The permission form is due tomorrow. If students do not bring their permission slip, they are in danger of being replaced by an alternate to the trip. Please send the permission slips back. Thanks, Katrina Ruggles

See you tonight at the Viking Athletic Association Banquet! We will be celebrating our athletes and coaches @ 5:30 pm in the main gym- which will be transformed into the House of Blue! Please join us for this special event!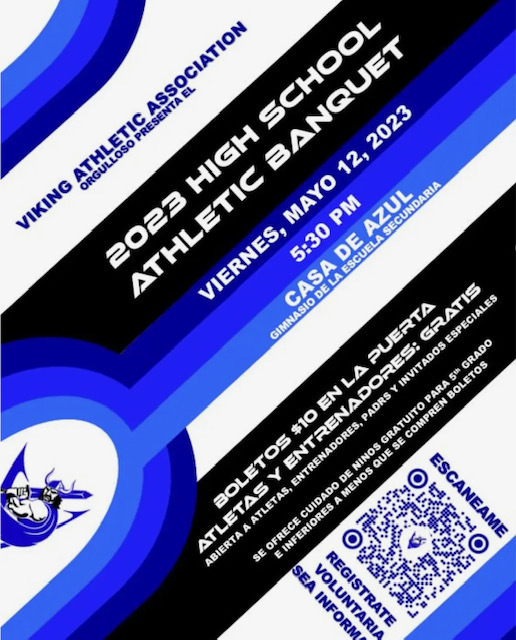 A reminder to please join the Viking Athletic Association in celebrating the accomplishments of the athletes and coaches at the 2023 Athletic Banquet. This Athletic fundraising event will be Friday, May 12 with doors opening at 5:30pm. General admission will be $10 per person at the for for all wanting to enter, whether you are joining us for dinner or not. All money raised will go to the Viking Athletic Association for the athletes. Free child care will be provided starting at 5:00pm with snacks and dinner provided at the Center Viking Youth Club. We look forward to seeing you there while we honor our past and celebrate our future. This is an exciting time to be a Viking.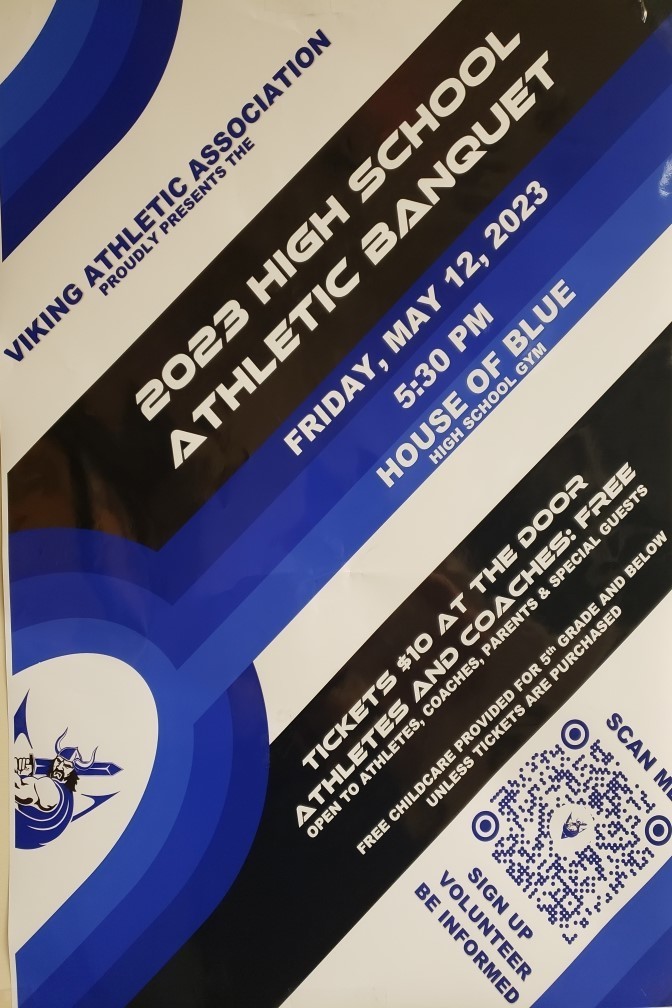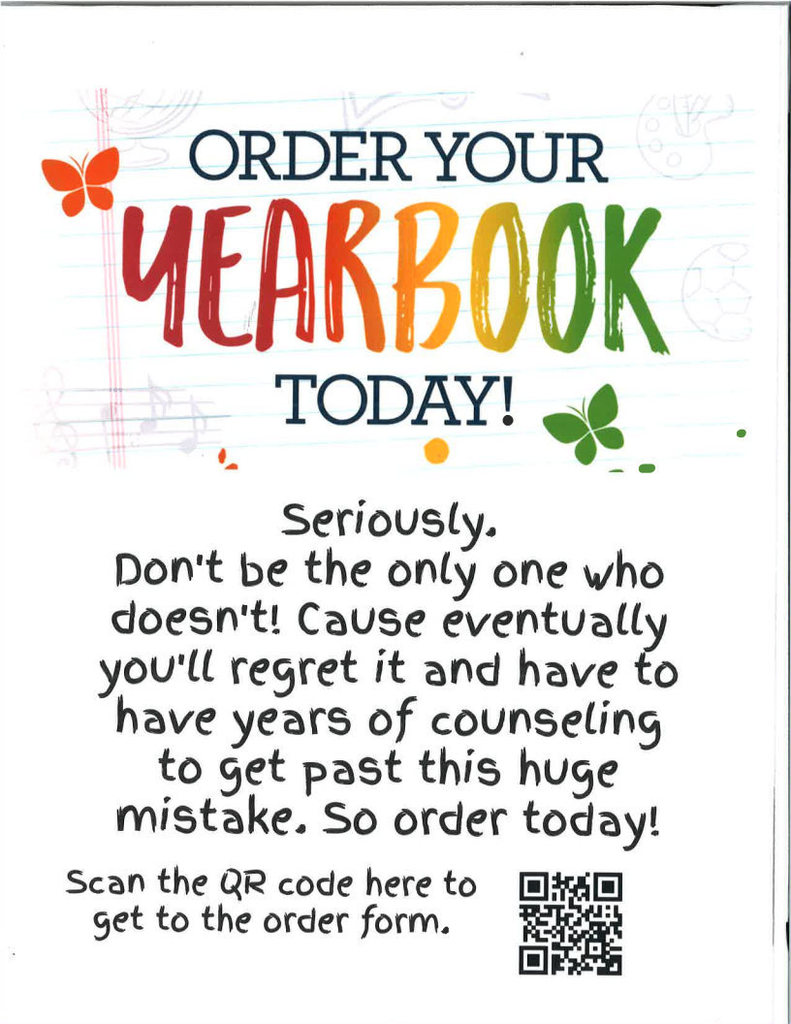 End of the Year Dates for Kindergarten May 23rd- Kindergarten last day of school May 24th -5:30 PM- Kindergarten Graduation in the auditorium (Students arrive at 5:00 pm to classrooms), Kindergarten no school May 25th- last day of school for 1st-5th grade students, kindergarten no school Dear Families, The end of the year can get very hectic. We will be sending more information as we get closer to these dates, but please save them for your reference. Thanks, Mrs. Najera, Mrs. Villagomez, Mrs. Garberich Fechas de fin de año para Kindergarten 23 de mayo- Kindergarten último día de clases 24 de mayo -5:30 PM- Graduación de Kindergarten en el auditorio (los estudiantes llegan a las 5:00 pm a las aulas), Kindergarten no hay escuela 25 de mayo- último día de clases para estudiantes de 1º a5º grado, jardín de infantes sin escuela Queridas familias, El final del año puede ser muy agitado. Enviaremos más información a medida que nos acerquemos a estas fechas, pero guárdelas para su referencia. Gracias, Sra. Najera, Sra. Villagomez, Sra. Garberich

Good morning Center Vikings! We will be doing a practice safety drill this afternoon as part of our district security plan. This is a scheduled drill with staff and students to ensure we are prepared in the event of an emergency. Thank you!