Pfizer COVID-19 Vaccine is now approved for students 12 years old and older! Saguache County Public Health will be administering vaccines at the school May 26th. We need to know a number of students interested by Monday May 17th so that the vaccine can be ordered. Please complete the permission form found at this link
https://sites.google.com/center.k12.co.us/schoolnursecorner/covid-19-vaccine-ages-12?authuser=1
or pick one up from the office and return to school asap. ¡La vacuna Pfizer COVID-19 ahora está aprobada para estudiantes de 12 años en adelante! Salud Pública del Condado de Saguache administrará vacunas en la escuela el 26 de mayo. Necesitamos saber el número de estudiantes interesados antes del lunes 17 de mayo para que se pueda ordenar la vacuna. Complete el formulario de permiso que se encuentra en este enlace
https://sites.google.com/center.k12.co.us/schoolnursecorner/covid-19-vaccine-ages-12?authuser=1
o recoger uno de la oficina y regresar a la escuela lo antes posible.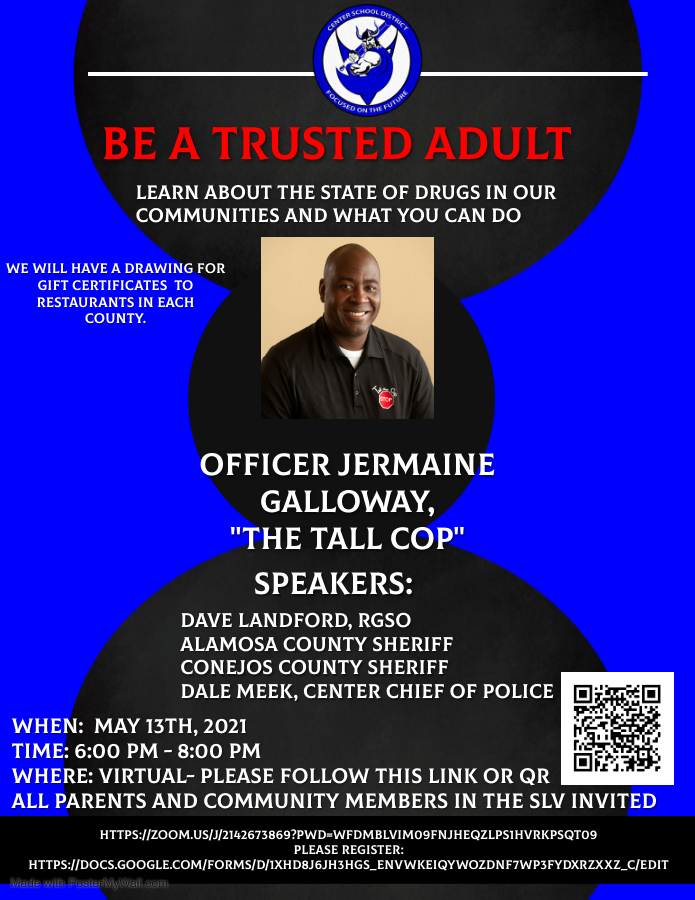 Good morning, Tomorrow, Thursday, May 13, we will have early release for all of Center schools from grades k-12. Students will be release at 12:45. Thank you!*** Buenos dias, Manana, el jueves, trece de mayo, los estudiantes saldran de la escuela temprano. Todos los estudiantes de los grados k-12 sladran a las 12:45. Gracias

Center Parks & Rec is taking registration for baseball/t-ball for the summer. Registration deadline is Friday, 5/21/21. Register at the link and, pay at the PayPal link provided after you submit registration.
https://forms.gle/4NtZuhSi84tXfib99
Registro de Center Parks & Rec para béisbol / t-ball para el verano. Último día de inscripción es el viernes 21 de mayo del 21. Regístrese en el enlace y pague en el enlace de PayPal que se proporciona después de enviar el registro.
https://forms.gle/4NtZuhSi84tXfib99

Good evening, We will have school in person tomorrow, Monday, May 10th for the elementary school*** Tendremos escuela en persona manana el 10 de mayo para la escuela primaria. Gracias

Seniors, parents of seniors, and other high achieving students: There will be a high school awards ceremony on Monday, May 10th at 6:00 PM in the Auditorium. We hope that you will attend to watch the acknowledgement of achievement that seniors and other students have reached this year. Please call the high school office Monday morning if you have questions.

Happy National Nurses Day to our amazing ladies- Wendy Murillo and Randi Asbell! Thank you both for your hard work this year. You have done an amazing job keeping our students and staff safe!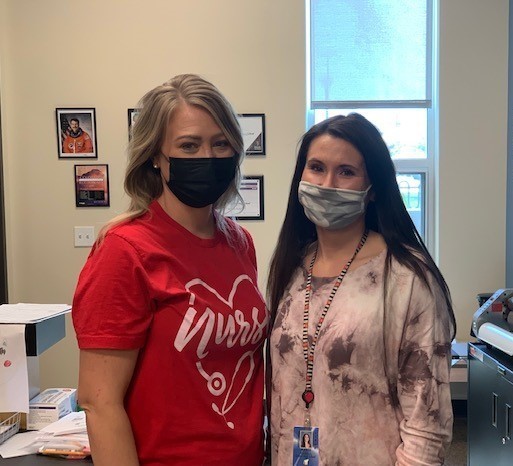 Good Morning, The internet is back up and running. Please have your kids log onto class! Thanks, Have a great day!! *** El internet ya esta funcionando. Por favor asegurase que sus hijos entren a clases! Gracias- Tengan buen dia!!!



Good afternoon, we have power back on at the school. However, our internet is still down. We will let you know when it is back up. Thanks for your patience. Buenas tardes, tenemos electricidad en la escuela. Sin embargo, nuestro Internet todavía está caído. Le avisaremos cuando vuelva a funcionar. Gracias por su paciencia

Attention all Preschool and Headstart students. Please pick up your packet for Kindergarten registration by tomorrow Thursday April 29th in the Elementary office. We need them filled out and returned by next week. Thank You Atención a todos los alumnos de Preescolar y Headstart. Por favor, recoja su paquete para la inscripción al jardín de infantes (kinder) antes de mañana jueves 29 de Abril en la oficina de la escuela primaria. Necesitamos llenarlos y devolverlos la semana que viene. Gracias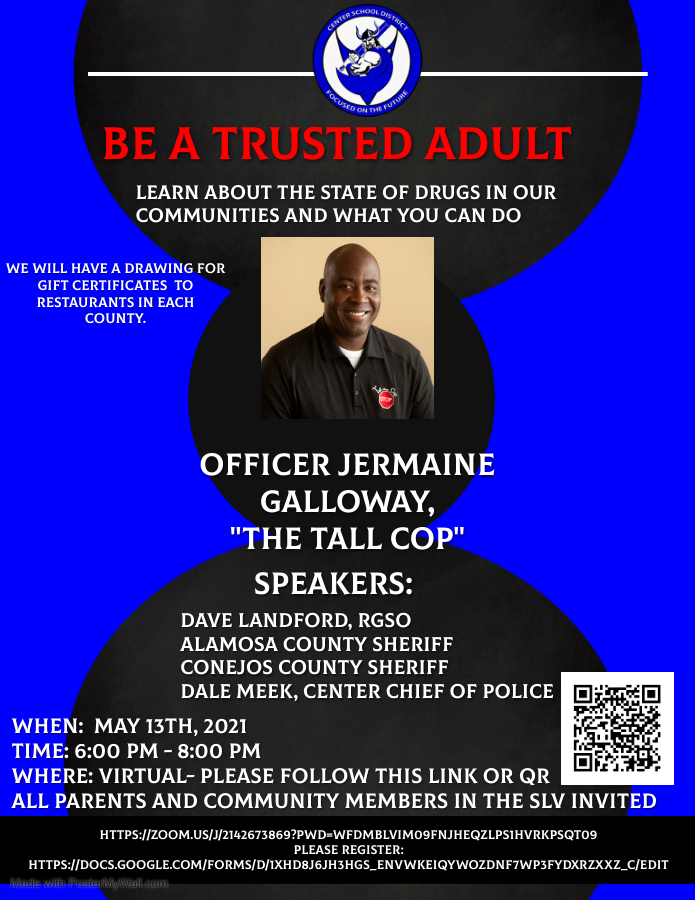 Check out the latest Center of Focus @
www.center-of-focus.com
. Happy Teacher Appreciation Week to our amazing educators!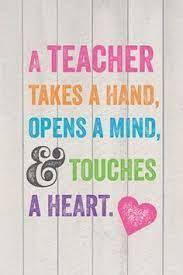 Center Schools would like to recognize our amazing teaching staff! During a year of unprecedented challenges, our teachers have risen to the occasion to provide high quality instruction, love, and support to our kids on a daily basis. Happy Teacher Appreciation Week!

There will be an elementary food pick up every day this week Monday - Thursday. This will start at 11 AM. It will be in front of the cafeteria doors. Podra recoger alimentos para los estdiantes de la primaria todos los días de esta semana de Lunes a Jueves. Esto comenzará a las 11 AM. Estará frente a las puertas de la cafetería.
🛑 BUENOS DÍAS RECORDATORIO LA ESCUELA PRIMARIA NO TENDRÁ CLASES EN PERSONA. TENDRÁN CLASES EN LÍNEA ESTA SEMANA❗️ 🛑GOOD MORNING REMINDER THE ELEMENTARY SCHOOL WILL NOT HAVE CLASSES IN PERSON. THEY WILL HAVE ONLINE CLASSES THIS WEEK❗️
Good afternoon, We have a couple of individuals that have tested positive with Covid. We have decided to move to remote learning for a week. This will be for the entire elementary school, k-5. Teachers have a plan to meet virtually with students. We will return May 10th to in person classes. Thank you! Buenas tardes, Hemos visto algunos casos positivos con Covid. Vamos a tener la escuela por Zoom esta proxima semana por toda la primaria, Regresaremos a la escuela el 10 de mayo. Gracias
Attention all Preschool and Headstart students. Please pick up your packet for Kindergarten registration by tomorrow Thursday May 29th in the Elementary office. We need them filled out and returned by next week. Thank You