Attention 2021 Center HS Graduates! Saguache County scholarships available for seniors who just graduated who are furthering their education in college or trade school. Please email Zimmerman @
czimmerman@center.k12.co.us
for information. The application is easy and there is money available right now!
School registration for all new and returning students for the 2021-2022 school year will be held August 10th from 9:00-4:00 at the school. We will also have free health screenings that day as well! More information to come! La inscripción escolar para todos los estudiantes nuevos y que regresan para el año escolar 2021-2022 se llevará a cabo el 10 de agosto de 9: 00-4: 00 en la escuela. ¡También tendremos exámenes de salud gratuitos ese día! ¡Más información próximamente!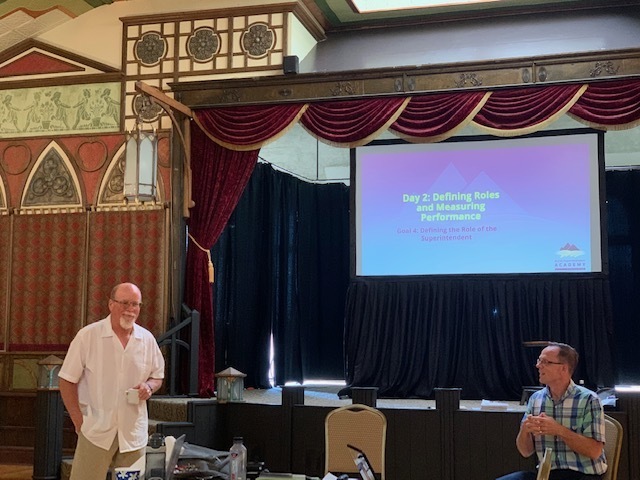 Just a reminder-If your child received their first dose of COVID vaccine at the school, their second dose is scheduled for tomorrow June 16th at the Public Health office in Center. Parent must be present to sign a consent form. Un recordatorio- si su hijo recibió la primera dosis de la vacuna de COVID en la escuela, su segunda dosis en el Public Health de Center. El padre o madre de familia tiene que estar presente para firmar la forma de permiso.

Center Consolidated School District's summer school session will begin this Monday, June 7th @ 8:00am. All students attending this program will enter, and be released, through the front elementary doors which will open at 7:45am. We look forward to seeing you then!



Just a reminder that the Center High School Graduation Ceremony is scheduled for tomorrow at 11 AM at the Center Community Park. The ceremony will also be streamed at
https://bit.ly/3ft1Rvh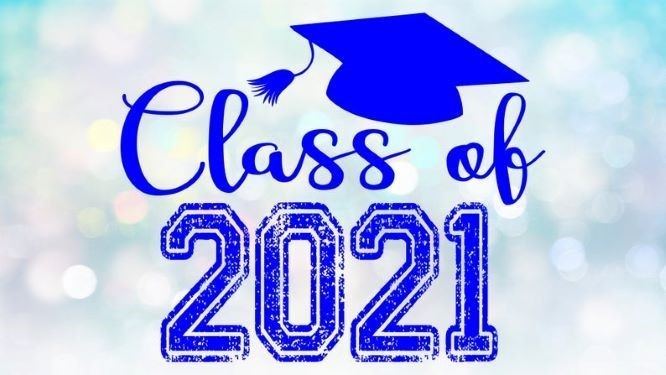 Center Schools is excited to be able to offer a summer school program this year, beginning June 7th – July 15th, with the exception of July 5th. This year's summer program will be focused on core academic skills like literacy and math in order to close the gap for those students whose learning was disrupted by the COVID-19 pandemic. Parents and guardians for those students who have been selected should be receiving more information about this amazing opportunity in the coming week.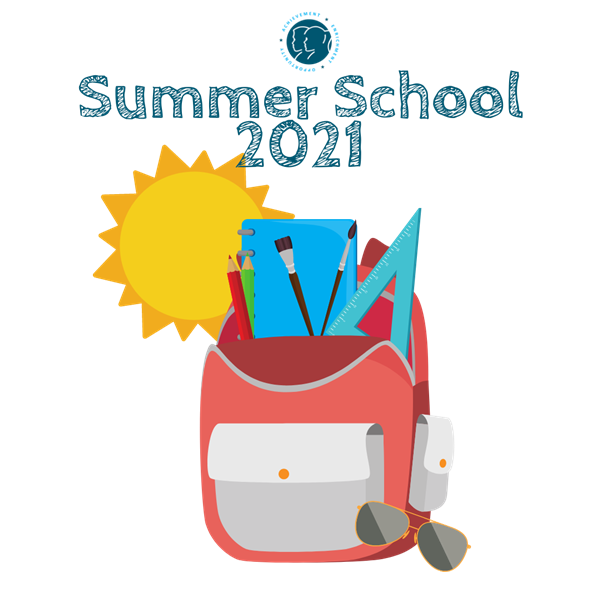 ARC credit recovery summer school for high school and middle school students will start on Monday, June 14th. Middle School students will be present in the ARC from 8:00am to 12:00pm and High School students need to choose their schedule between 12:00 pm and 8:00pm. Both schools have to attend Monday to Thursday. All students are expected to wear a face mask, be here the 4 days per week, and sign a contract. The contract will be posted on the ARC web page on June 7th at
www.center.k12.co.us
.
This is for all people that do not have tickets to attend in person. Kindergarten Graduation Zoom link Thursday, May 27th 6:00 PM For Mrs. Najera and Mrs. Garberich's classes Join Zoom Meeting
https://us02web.zoom.us/j/84502667590
*** Graduacion de Kinder para las clases de Senoras Garberich y Najera. Para todos que no tienen boletos para asisitir en persona. A las 6:00 PM Jueves, 27 de Mayo** Join Zoom Meeting
https://us02web.zoom.us/j/84502667590

Parents, we have a Park & Rec t-ball/baseball/softball meeting at the park at 5:30 PM tonight, 5/24/21. Padres, tenemos una reunión de Park & ​​Rec t-ball / baseball / softball en el parque a las 5:30 PM esta noche, 5/24/21.

Parents, we are taking more registration for ages 13-14 softball. We don't have enough players yet, so trying to get enough for team. Please get people to register ASAP.
https://forms.gle/bojxUzuFX5xNLkWp8

Graduación de Center HS- 29 de mayo - Campo de fútbol de CHS 11:00 a.m. inicio Restricciones de Covid 19 A todos los graduados se les permite 4 cajas cerca del escenario. Las cajas serán de 8 x 8 pies. Las casillas estarán marcadas en el césped del campo de fútbol. A cada familia que viva en el mismo hogar se le permitirá una caja. Los graduados determinarán qué familiares o amigos se sentarán en los palcos. Las familias deberán traer sus propias sillas de jardín o pueden optar por estar pardos. Si las familias quieren asistir a la ceremonia y sentarse en su automóvil, pueden quedarse en el automóvil durante la ceremonia. Toda la graduación se transmitirá en nuestro canal de YouTube (Viking News). No se permitirá que nadie se siente en las gradas ya que esto sobrepasa nuestra capacidad. Si tienes alguna pregunta. Llame al 719-754-2232.

Center HS Graduation- May 29th- CHS Football Field 11:00 a.m. start Covid 19 restrictions- All graduates are allowed 4 boxes near the stage. The boxes will be 8 x 8 feet. The boxes will be marked on the football/soccer field grass. Each family that lives in the same household will be allowed one box. The graduates will determine which family/friends will sit in the boxes. Families will need to bring their own lawn chairs or they can choose to stand. If families want to attend the ceremony and sit in their car they are welcome to stay in the car during the ceremony. The entire graduation will be streamed on our YouTube channel (Viking News). Nobody will be allowed to sit in the bleachers as this puts our numbers over capacity. If you have any questions. Please call 719-754-2232.
The deadline for vaccine consent forms for the Pfizer COVID 19 vaccine for students 12 years old and older, that will occur at school next week, has been extended to Thursday morning. Please consider getting your students vaccinated. Consent forms can be picked up at the office or printed from the website below. Parents will not have to be present for student to receive the vaccine as long as consent form has been turned in. La fecha límite para los formularios de consentimiento de vacunación para la vacuna Pfizer COVID 19 para estudiantes de 12 años en adelante, que ocurrirá en la escuela la próxima semana, se ha extendido hasta el jueves por la mañana. Por favor considere vacunar a sus estudiantes. Los formularios de consentimiento se pueden recoger en la oficina o imprimir desde el sitio web a continuación. Los padres no tendrán que estar presentes para que el estudiante reciba la vacuna siempre que se haya entregado el formulario de consentimiento.
https://sites.google.com/center.k12.co.us/schoolnursecorner/covid-19-vaccine-ages-12?authuser=0

All students, Kindergarten-12th grade, both attending in-person school and online school, will be required to turn in their technology devices during 1st period on Tuesday, May 25th. Parents: if your child is missing any accessories or they are damaged, such as the chargers, cases, etc., please be prepared to pay for the replacement cost. Below is a list of replacement fees: iPads - Haskin Elementary & Skoglund Middle School Annual Usage/Device Fee: $35 Cube (charger): $20 USB Cable (charger): $20 Case (Shield Stand): $10 Broken Screen: $35 Replacement Device: $500 Laptops - Center High School Annual Usage/Device Fee: $45 Charger: $55 Case (bag): $25 Broken Screen: $45 Replacement Device: $900 Any unpaid fees will mailed in an invoice to households during the summer or assessed when you register your child for the next school year. If you have any questions, please reach out to one of our main offices: Elementary: 719-754-3982 Middle/High School: 719-754-2232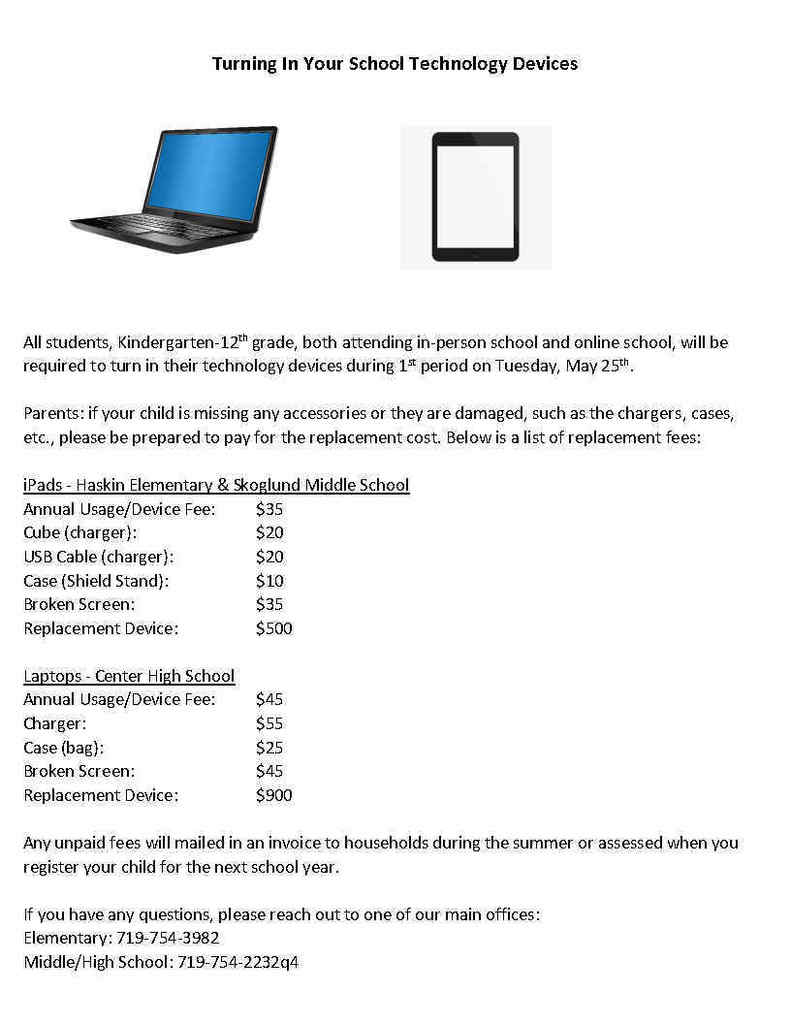 The game versus Trinidad has been canceled for today.